What are your favorite pizza toppings? The greatest thing about pizza aside from its heavenly flavors is that you can mix and match toppings to fit your taste! Sure, there are the classics like pepperoni and Hawaiian pizza, but why don't you expand your horizons and try some other fun pizza topping combinations?
Here at Jimini, we started making pizzas in 1996 with only a small backyard operation. Our passion for pizza led us to explore and create more pizza topping combos to share with our beloved customers. It's time to let go of your favorite flavors, step out of your comfort zone, and join us in exploring other topping combinations that pizza has to offer. Mix up your next pizza meal by ordering any of these flavors from Jimini Foods Group! Keep reading for more!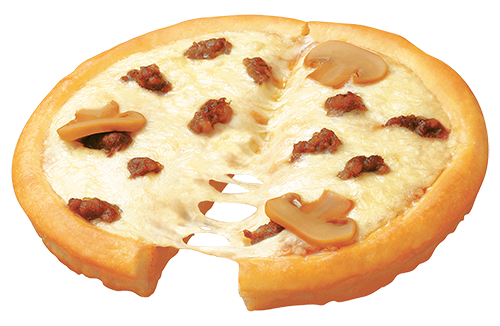 The Ultimate Burger And Pizza Combo For Kids – Burgie Joe
Jimini Whole Pizza Chicago Style
Are you a fan of burgers as well as pizza? Our talented cooks created this pizza flavor with the thought of getting the best flavors of both burgers and pizza. We top this pizza with our world-famous burger chunks with mushroom slices, giving kids and kids-at-heart the experience of enjoying pizza with a burger meat flavor.
In addition, the mushrooms will add a mild but tasty hint that complements the burger chunks and cheese. Once reheated, the Burgie Joe will serve as an enjoyable snack or meal any time of the day
Time To Get Meaty With Chori Bacon Blast!
Jimini Whole Pizza Chicago Style
When you think about what type of meat goes on pizza, you immediately think of pepperoni. This time, we take it up a notch and try to find better and juicier meaty flavors with the Chori Bacon Blast pizza!
The pizza combines the meaty goodness of hot chorizo and bacon bits in a single delicious frozen-fresh snack! Chorizo is a similar type of meat to pepperoni and is a famous alternative for pizza toppings. It's also used as a common alternative for ground pork or beef. Sprinkling the pizza with bacon bits only intensifies the meaty taste that we all know and love. The addition of the Chori Bacon Blast to our menu is a win for Jimini's meat-loving customers! Family-friendly and absolutely delicious, you and your kids will enjoy munching on this unique pie.
The Next Food Partner Of Your Kids – Dynamic Duo!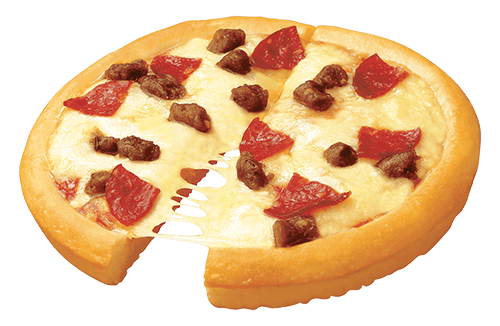 Jimini Whole Pizza Chicago Style
Another umami-filled combination for our meat lovers out there, the Dynamic Duo pizza has chunky Italian sausage and pepperoni bits as toppings.
This duo features the Italian sausage as the main meat of the pizza, going in a different direction than the chorizo pizza. We try to mix the distinct flavor of Italian sausage with the familiar taste of pepperoni bits. Imagine the smell of the Dynamic Duo as it cooks in your oven!
Family Pizza Doesn't Have To Be Meatless – Garlic Mushroom Melt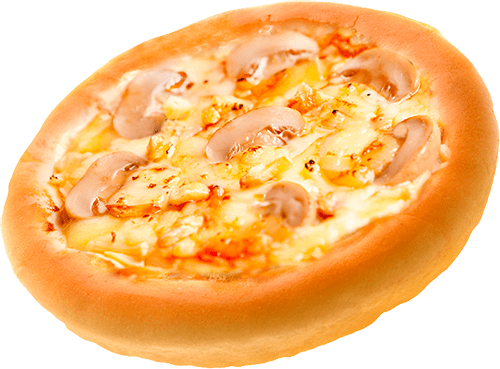 Jimini Whole Pizza Chicago Style
You can never go wrong with this classic pizza combination. Garlic and cheese have been a popular culinary combination, even as far back as this Italian dish's inception! Add mushrooms and you've got a savory slice, bursting with creaminess, character, and flavor in every bite.
For those looking for a healthier pizza, Jimini's Garlic Mushroom Melt is sure not to disappoint. Even without chunks of pepperoni, sausages, or ham, this pizza's flavors work so well together, leaving a lasting impression on anyone bold enough to try it. If you're not exactly impressed by all-too-familiar vegetable pizzas, Jimini's alternative to meatless pies will definitely make you come back for thirds.
A Pizza For The Whole Family – Ham + Sausage and Cheez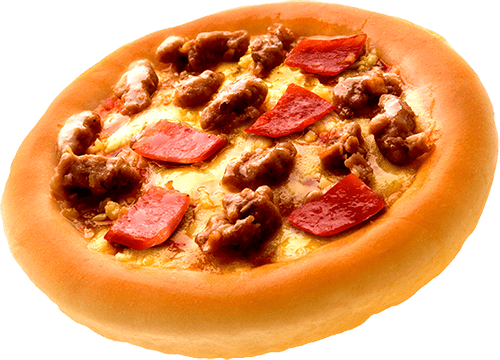 Pizza Pedrico's
With the flavorful blend of premium sliced ham, juicy sausage bits, and cheese, you'll have a pizza experience like no other! Jimini's chefs know the value of good meat and its blend with the right cheese. Sporting the perfect balance of cheese and meat, the Ham + Sausage and Cheez pizza is perhaps the best way to enjoy the dish without the classic pepperoni.
Both ham and sausage are already used as pizza toppings in other flavors, but this combination caters to everyone from meat lovers to casual pizza enjoyers. If you're unsure of your friends' pizza preferences, get this one!
Say Cheese! – Cheez and Cheez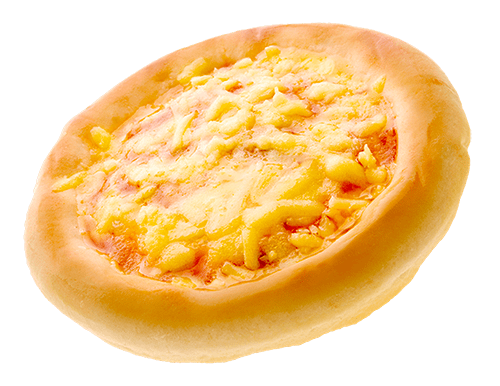 Pizza Pedrico's
To some people, there is only one ingredient that matters: cheese. Those who love cheese usually love pizza as well, since almost all types of pizzas have cheese.
But have you heard of pizza with only cheese as a topping? At Jimini, we aren't afraid to overload a pizza with cheese! The Cheez and Cheez pizza is decked with layers and layers of multiple varieties of cheese! The overloaded flavor is carefully blended to make the most of the different cheeses, resulting in a true standout pizza. After all, is there such a thing as too much cheese?
Key Takeaway
Thanks to the pizza topping combinations we talked about, Jimini has found more ways for people to enjoy pizza. The best pizza topping combinations are the ones that you enjoy — whether that involves meats, mushrooms, or outrageous amounts of cheese! If you haven't tried them yet, we suggest that you explore the wide range of flavors that pizza has to offer, starting with ours!
But it doesn't stop there. At Jimini, we continue to widen our horizons when it comes to making pizza. We have years of experience in developing the best pizzas — frozen-fresh, in slices, or the whole thing — you can find. Our Winning Brands have a lot to offer when it comes to pizza flavors, so if you want to explore, join us in making more delicious mouthwatering topping combinations! Share your experience with us by contacting us here!