History
JIMINI WHOLE PIZZA was launched in 1996.
Backyard kitchen operation with 1 Quality Assurance person and 2 production staff.
Encouraged by the need to make pizza enjoyment fast and convenient via the FRESH-FROZEN PIZZA FORMAT where pizza can taste like freshly prepared pizzeria quality pizza when baked.
Test launched at the WORLD TRADE CENTER MANILA and the rest is history.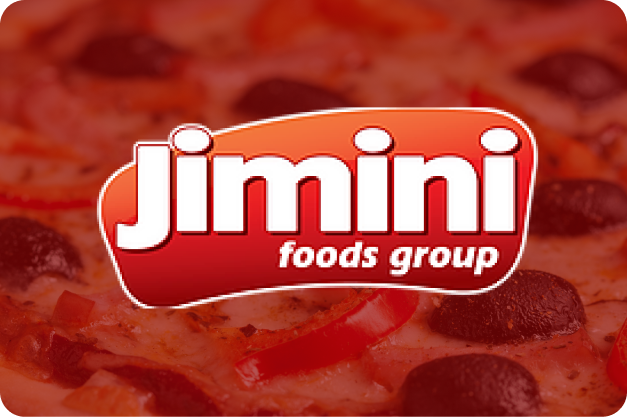 1990
1999
Opened out first mall outlet at the SM Megamall.
2000
Started distributing our brands across all Petroleum Convenience Stores.
2001
Launched the country's 1st Microwavable Pizza Bar.
2002
Launched the country's 1st Microwavable Pasta Line.
2003
Pipelined products across all Mainstream C-Stores.
2004
Launched Pizza Pedricos 4-Pizza-in-a-Box.
2007
Launched Jimini Whole Pizza Chicago Style Currently
Category Market Leader.
2009
Typhoon Ondoy wiped out operations but resumed operations in 8 days by God's grace.
Launched VISMIN expansion and opened Cebu Business Support Center.
Managing Director won Entrepreneur Magazine, Entrep 10 Award.
2011
Launched the Supermarket Food-to-Go Concept.
2012
Opened Davao Business Support Center.
Launched Pizza Pedricos Pizza Tambayan.
Opened VISMIN commissary in Opao, Ouano, Cebu.
Habagat signals the need for change.
Launched Pizza Pedricos Counter Top Program.
Launched Santinos Supreme Slice concept.
Launched Pizza Pedricos Supreme Duo Slices.
2014
Pizza Pedricos inducted into Entrepreneur Magazine Franchise Hall of
Fame.
2015
Cebu Plant was burned down by fire.
Davao Commissary opened at Bangkal, Davao City.
2016
Pizza Pedricos became the largest Pizza Network in the Philippines
with over 1,000 serving stations nationwide.
2017
Cebu Commissary opened at Mandaue City, Cebu
Quality Policy

Quality is the foundation for the long term growth, viability and sustainability of the Jimini Foods Group.

Management across all levels will take the lead in promoting this Quality Culture.

Every member of the Jimini Foods Group is committed to Total Quality Management to guarantee BEST PRODUCT EXPERIENCE.

We will continually review and improve our Quality Systems to delight our customers with BEST BRAND EXPERIENCE.

Quality to us is to win and maintain our customer's trust, preference and loyalty for our brands.