What are some healthy pizza topping ideas?
Mushrooms

Tomatoes

Zucchini

Pesto

Potatoes

Pumpkins

Avocados
Pizza is the comfort food that everyone loves. The combination of savory tomato sauce, gooey cheese, and crisp crust is addicting enough to please even the pickiest eaters. This delicious round baked dough can also be eaten any time of the day — whether breakfast, lunch, dinner, or midnight snack. However, pizza is commonly labeled as unhealthy. We beg to disagree. There are plenty of toppings that can be added to a pizza to make it a nutritious dish. Below, we curated a list of healthy pizza toppings ideas.  
Mushrooms
No pizza is complete without its toppings and mushrooms are some of the most popular healthy toppings across the world today. Mushrooms are a fat-free, low-sodium, and low-calorie source of protein, antioxidants, selenium, B vitamins, copper, potassium, and fiber. The different minerals and vitamins of mushrooms can reduce the risk of heart disease, diabetes, certain cancers, and Alzheimer's. 
Mushrooms complement the other toppings of pizza like cheese, onions, and olives. Each type of mushroom also offers distinct flavors. Portobello, Shitake, Button, and Morel mushrooms are some of the most common and flavorful mushrooms used on pizza. So, slice some mushrooms thinly and create a vegetarian-friendly pizza today! ​
Tomatoes
Even though pizza already commonly comes with tomato sauce, you will be glad to add fresh tomatoes on your pizza. Tomatoes are a great source of lycopene, a potent antioxidant that helps fight off free radicals that damage healthy cells. High lycopene consumption has been linked with improved heart health, reduced cancer risk, and skin protection. 
Zucchini
Zucchini is a vegetable packed with a variety of vitamins and minerals. It has high fiber content, low carb content, and low-calorie content. Zucchini is rich in manganese, vitamin C, potassium, magnesium, vitamin K, copper, and folate. Cooked zucchini, however, is particularly high in vitamin A (about 40% of the Reference Daily Intake (RDI). 
In addition, zucchini was found to reduce blood sugar, promote healthy digestion, and improve eye and heart health. So, before sliding your pizza into the oven, slice some zucchini to top your pizza. For added flavor, you can drizzle the zucchini pizza with some balsamic glaze.
Pesto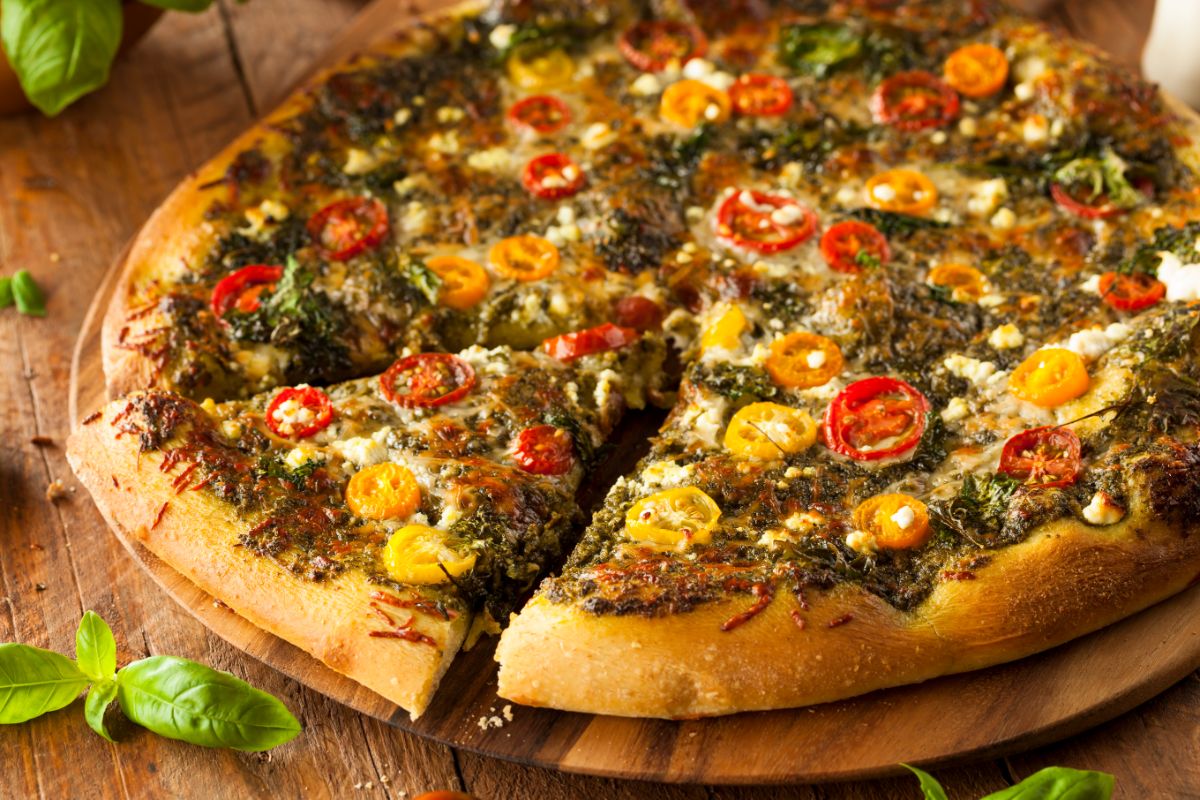 Pesto is a type of thick, green sauce made with basil leaves, hard cheeses, European pine nuts, and crushed garlic giving it a herby and salty flavor. If you're health-conscious, you'd be glad to know that pesto also offers health benefits. The ingredients in pesto are linked to lowering a person's risk of heart attack, heart disease, stroke, diabetes, many types of cancer, and Alzheimer's.        
To top your pizza with pesto, use it sparingly as a sauce. You may also try to make your own pesto sauce recipe at home so you can control the amount of fat and oil.
Potatoes
Potatoes are not usually the first food people think of when it comes to healthy ingredients. However, potatoes are not the health villain everyone has made it out to be. Although potato skin and oily french fries may be heavy in calories and fat, the potato itself is fat and cholesterol-free as well as low in sodium. Cooked the right way, potatoes can create a nutritious dish. 
Potatoes are a good source of fiber, vitamin C, potassium, manganese, calcium, folate, and vitamin B6. These are linked to improving digestive health, lowering blood pressure, and lowering disease risks like heart disease and cancer.  
To create a healthy potato pizza, cut the potatoes and soak them first. Once done soaking, drain the potatoes and toss them with extra-virgin olive oil, salt, pepper, fresh rosemary, and minced onion. Afterward, evenly spread the potato mixture on top of the pizza. Enjoy! 
Pumpkins
Pumpkins are low in calories yet high in fiber. This means they can make you feel fuller for longer. Pumpkins are also nutritious fruits that boost eye and heart health and immunity. If you're looking for a healthy pizza topping, the nutrient-rich is the way to go. 
To add pumpkins to your pizza, bake the pumpkins with olive oil first for 30 minutes. After taking the pumpkin out, spread it on top of your pizza and bake again. 
Avocados 
There's no doubt that avocados are also a great healthy pizza topping idea. Avocados are ingredients used for many dietary dishes, such as avocado toast and avocado Buddha bowl. So, it makes sense to use it as pizza topping as well. 
Avocados are high in fiber, vitamins C, E, B6, and K as well as riboflavin, niacin, magnesium, potassium, folate, and omega-3 fatty acids. These help keep a person fuller between meals, improve heart, bone, and eye health, decrease the risk of high blood pressure, and prevent osteoporosis. 
To whip up a healthy avocado pizza, simply add avocado slices evenly on top of the pizza after baking. You may also add chicken to the pizza for added protein. 
Key Takeaway
In this article, we've rounded some of the best healthy pizza toppings ideas. Whether you are a vegan, trying to keep a close eye on your carb intake, or just want to eat a bit healthier — you, too, can indulge in a slice or two of pizza with these healthy toppings.