There is no better holiday to get as many pizzas as possible than Christmas! You can always order delicious pizzas from the outside, but not everyone has that luxury. Also, you may be the one who enjoys making their own food better than having it delivered. For this reason, we've prepared some Christmas pizza recipes for our holiday dinner.
To get started, here are some Christmas pizza recipes you might like! Read on!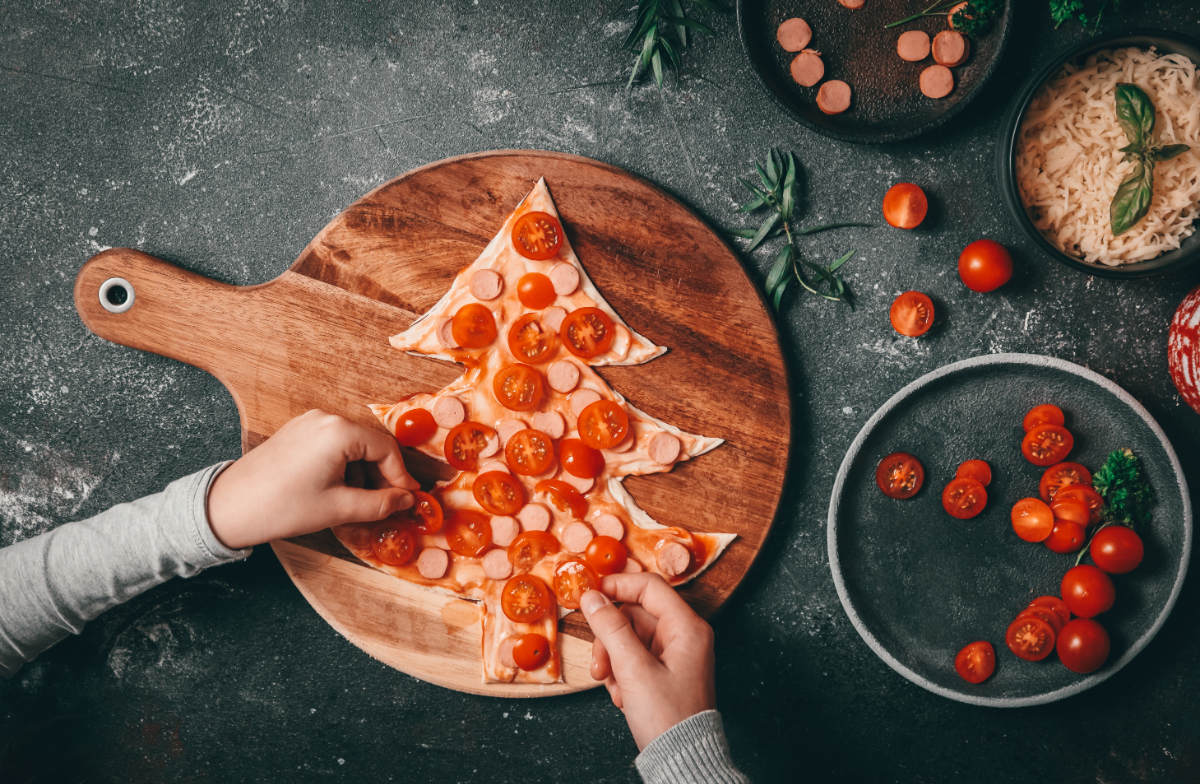 Christmas Tree Pizza
These pizzas are bite-sized snacks, perfect as appetizers before your main pizza course!
INGREDIENTS:
10 oz thawed Puff Pastry Sheet
4 tbsp Pizza Sauce
4.5 oz Grated Cheese
3 Pepperoni Snack Sticks or any other sausage snack sticks
1 Green Pepper
1 Tree Cookie Cutter
Baking Paper or Silicone Mat
PROCEDURE:
Make as many tree-shaped cutouts from your pastry sheet using the tree cookie cutter.
Line the baking tray with baking paper or a silicone mat. Place the cutouts on the tray.
Start adding the pizza sauce over the cutouts. Then add toppings such as pepperoni, cheese, and pepper. Preheat the oven while doing this.
Bake in 205°C (400°F) for 10 minutes or until the pizza is golden brown and puffed.
Serve while hot.
ADDITIONAL TIPS: Instead of using your own pastry sheet and toppings, you can use a frozen-fresh pizza instead! This way, everything is ready and the flavor is sure to be top-notch! Just use your tree-shaped cookie cutter before baking.
Holiday Pizza Wreath
It's important to remember that Christmas is a religious holiday as well. For Christians who celebrate Christmas with a more spiritual air, try this holiday pizza wreath recipe!
INGREDIENTS:
2 cloves minced garlic
½ small yellow onion, diced
1 can whole peeled tomatoes, crushed
1 ½ cup basil leaves
½ pound sweet Italian sausage
2 1-pound balls of refrigerated pizza dough
All-purpose flour
½ cup sliced pepperoni
1 cup of grated cheese
1 large egg
PROCEDURE:
Set an inverted baking sheet or pizza stone at the center of the oven. Preheat to 205°C (400°F). Then, set aside another inverted baking sheet lined with parchment paper.
Cook the garlic and onions in 1 tablespoon of extra-virgin olive oil for 5 minutes or until tender.
Add the tomatoes, basil leaves, salt, and pepper to the mixture. Lower the heat and allow the mixture to simmer for 25 minutes.
While cooking the sauce, start cooking the sausages on a separate pan for 5 minutes. Break it up with a spoon to make smaller pieces.
Apply flour to the surface where you'll roll out your dough. Roll and stretch the dough into two 12-inch circles. Use a 3-inch circular cookie cutter and make a hole in the center of the dough.
Place one of the rings on the inverted baking sheet. Add the toppings as generously as you'd like while leaving some for the other dough ring. When done topping the first ring, gently place the other one on top.
Cut around 1 to 1 ½ inch strips all around the wreath, resembling rays of the sun. Turn each strip twice to make rolls and press down the edges on the parchment. Do this for all strips.
Make a bow out of the dough centers from the circles you cut out earlier.
Whisk the egg in a bowl and brush on the wreath. Start baking in the oven for around 20 minutes before removing the bow, then another 25 for the wreath itself. Place the bow at the bottom and sprinkle with basil and chile peppers.
Christmas Pizza Squares
Pizzas come in circles, but just to spice things up, try getting them in squares!
INGREDIENTS:
2 tbsp butter
1 tsp canola oil
1 large onion, thinly sliced
1 pound ground beef
1/2 tsp salt
1/8 tsp pepper
1 tube refrigerated pizza crust
1-1/2 cups shredded mozzarella cheese
1 jar roasted red peppers, sliced
1 medium tomato, diced
1/2 cup sliced olives
PROCEDURE:
Cook onion in butter and oil for 30-35 minutes, until caramelized. On a different pan, cook the beef until it is no longer pink then sprinkle it with salt and pepper. Set aside.
Place pizza dough onto a baking pan and prick with a fork. Bake at 205°C (400°F) for 10 minutes.
Add all the toppings: beef, caramelized onion, cheese, red peppers, tomato, and olives, then bake until cheese is melted, around 10-12 minutes.
Cut into squares and serve while hot.
ADDITIONAL TIPS: While it's easier to get Jimini Whole Pizza's Pizza Bars, you could also use your pizza cutter (or simple bread knife) to cut a frozen fresh pizza into squares before baking.
Key Takeaway
These Christmas recipes for your holiday dinner are good for Christmas celebrations at home or on the go. They should be good enough to rekindle the Christmas spirit while being delicious dinner options. You'll be able to create festive meals that are easy to make, fun to look at, and an absolute pleasure to eat!
If you want more pizza goodness, you can always try Jimini's pizzas! We carry many Winning Brands that can get you anything you need to make the best pizza Christmas dinner! You can also learn more about us through this link!