What are the best summer salads to pair with pizza?
Caesar Salad

Kale and Quinoa

Crunchy Spring Salad

Spinach Salad

Arugula and Fennel Salad
Need a few side dishes for your summer pizza party? Why don't you try whipping up delicious salads? Here are the best summer salads with pizza — from caesar salad to arugula and fennel salad. 
People always look forward to munching on pizza, especially when the summer season arrives. Why not, right? Pizza is easy to prepare, delicious, and filling. But as much as everyone loves pizza, you might feel like it needs to be balanced out with something light and healthy — like a hearty salad! What makes a salad a great side dish with pizza is it's very healthy and easy to put together.   
Below are some delicious, summer salads that balance pizza night with a pop of freshness.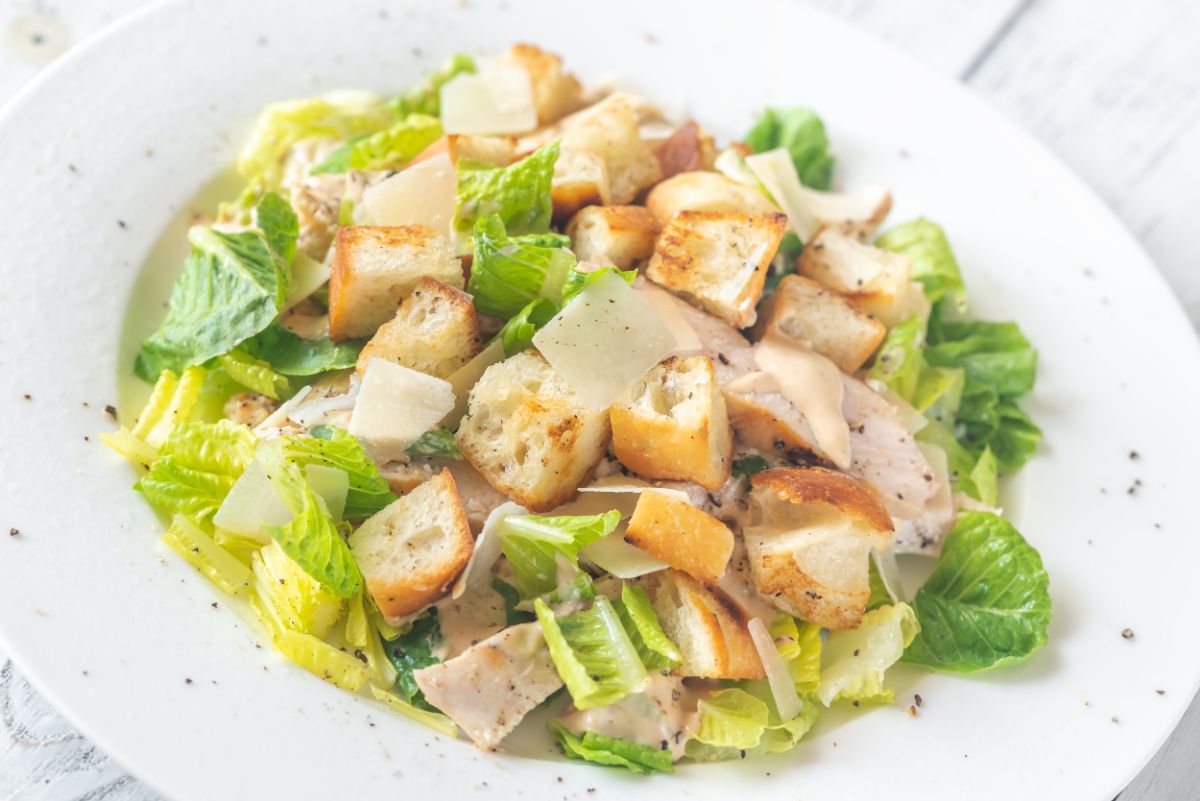 Caesar Salad
Caesar salad is one of the best summer salads to go with pizza. Perhaps because it has the creaminess of the dressing, the crunch of romaine and croutons, the saltiness of the parmesan, or the tang of the garlic. All of these balance out the flavors and texture of pizza. 
Ingredients
For the Caesar dressing
1 medium garlic clove, minced or grated

¼ cup grated Parmesan cheese

2 tablespoons lemon juice 

¼ cup mayonnaise

½ cup Greek yogurt

1 tablespoon olive oil

½ tablespoon Dijon mustard

1 teaspoon anchovy paste 

2 teaspoons Worcestershire sauce

¼ teaspoon salt and fresh ground black pepper
For the Caesar salad
1 small pack of croutons

3 romaine hearts or 1 large head of romaine lettuce 

½ cup Parmesan cheese, shredded 
Directions
For the Caesar dressing
Whisk together the dressing ingredients in a bowl. 

Slowly drizzle the olive oil while whisking. 

Add salt and pepper to taste.
For the Caesar salad
Rinse, dry, and chop the romaine lettuce into bite-sized pieces. 

Place the salad in a large bowl and add the dressing.

Sprinkle it with parmesan and add croutons. 

Toss the salad until evenly coated. 
Kale and Quinoa
Kale and Quinoa salad is tasty and comes with two superfood ingredients — kale and quinoa. It's scrumptious to have as a side dish for pizza! 
Ingredients 
1 cup dry quinoa

1 ¾ cups water

1 can chickpeas

6 to 8 kale leaves, finely chopped or julienned

¼ red onion, finely diced

2 carrots, diced

½ large zucchini, diced

½ cucumber, diced

1 red bell pepper, diced

2 to 3 lemons

drizzle of olive oil

cracked pepper

alt to taste
Directions
Quinoa
Rinse your quinoa and place it in a medium saucepan with water.

Bring it to boil over medium-high heat. Cover, reduce the heat, and simmer on low for 15 minutes.

Once done, remove the cover. Let sit for 10 minutes. 

Fluff with a fork.
Kale
Place the chopped kale in a medium-size bowl. 

Drizzle with the lemon juice and mix. 
Mix
Once the quinoa is done, combine the vegetables and kale. 

Add pepper and salt to taste. 

Squeeze lemon juice on the salad and drizzle with olive oil. 
Crunchy Spring Salad
The radish, celery, and fennel in crunchy spring salad provide a satisfying crunch, which can offer the perfect crunch while eating pizza. 
Ingredients
3 tablespoons olive oil

1 tablespoon fresh lemon juice

2 cups arugula

2 cups frisée

2 cups watercress

3 scallions, trimmed and thinly sliced

2 inner ribs celery, trimmed and thinly sliced

⅓ cup chopped fresh Italian parsley

⅓ cup chopped cilantro

½ cup chopped fresh mint

6 small radishes, trimmed and thinly sliced

½ small bulb fennel, trimmed and halved lengthwise

Salt

2 oz. Freshly ground black pepper

2 oz. cheese
Directions
Whisk the oil and lemon juice in a large bowl.  

Add the vegetable and toss gently.

Season with salt and pepper. 

Shave the cheese over the salad. 

Gently toss and serve. 
Spinach Salad
A simple spinach salad with an easy homemade balsamic vinaigrette makes for a delicious and healthy side dish! This recipe takes just minutes to prepare and is perfect with dinner on a busy night.
Ingredients
5 to 6 cups of baby spinach

½ clove minced garlic

1 tablespoon balsamic vinegar

1 ½ tablespoon extra-virgin olive oil

pinch of salt and freshly cracked black pepper
Directions
Place the spinach in a large bowl.

Combine the dressing ingredients. 

Pour the dressing over the spinach salad. 

Enjoy!
Arugula and Fennel 
Arugula and fennel is a great summer salad with a lemon dressing. Its tangy and fresh flavors are ideal for pairing with sweet and flavorful pizzas. 
Ingredients
1 tablespoon finely chopped shallot

2 teaspoons fresh lemon juice

½ teaspoon Dijon mustard

3 tablespoons canola oil

6 ounces baby arugula leaves, washed and dried

½ fennel bulb, cored and thinly sliced

salt and freshly ground black pepper
Directions
In a large bowl, whisk together the lemon juice, chopped shallot, and mustard. 

Gradually add the oil while whisking. Check until the vinaigrette is emulsified. 

Add the baby arugula leaves and fennel to the bowl.

Season with salt and black pepper and toss.
Key Takeaway
These are some of the best summer salads with pizza. Salads are perfect for pairing with pizza as they are light yet hearty. 
If you want to munch on pizza goodness, you can always try our pizzas at Jimini! We carry many winning brands that can pair well with any summer salad. You can also learn more about Jimini here!