One of the popular breakfast classics in the Philippines is the scrumptious bagel — an energy-filled snack that's perfect for the most important meal of the day! Here in the Philippines, we're not as familiar with the bagel in the morning. But instead of having that morning coffee with pandesal, how about these amazing bagels to try today?
Bagels are baked snacks that look a lot like donuts. Your first instinct might be to eat them in the morning, but what makes bagels great is that you can eat them at any time of the day! The reason for this is bagels can be eaten with any kind of topping you like. Eating a bagel for lunch or dinner? Get some meat like turkey or meatballs on that bagel!
Everyone has different preferences, but some just fit the morning vibe perfectly. Start off your day strong with some tasty bagels topped with any of those listed below. Keep reading to learn more!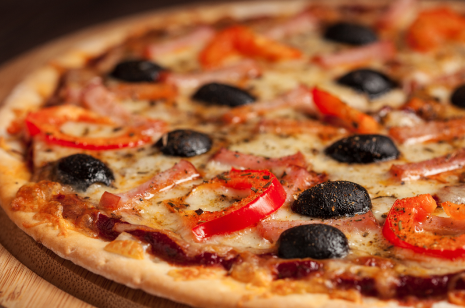 Chocolate Lovers Bagel
We call this the Chocolate Lovers Bagel, but who doesn't love chocolate? This bagel is good for everyone who likes to have a sweet snack every now and then. It's easy to make and doesn't need any fancy equipment.
Ingredients:
1 Bogels N.Y. Whole Wheat Delight Bagel, toasted
2 tbsp chocolate sandwich spread
1 pack of Chocolate Chips
Additional toppings (if needed)
Directions:
Take your chocolate spread and apply it evenly on the bagel.
Sprinkle chocolate chips and additional toppings as desired.
Enjoy!
Some of the common additional toppings to this combo are chopped walnuts, crushed Oreo cookies, sprinkles, and peanut butter. Either way, it's best to keep some cream cheese around if you want to make the most of your bagel snack. Of course, you can always experiment on your own and look for something that matches your own personal tastes!
Creamy Fruit Peanut Butter Bagel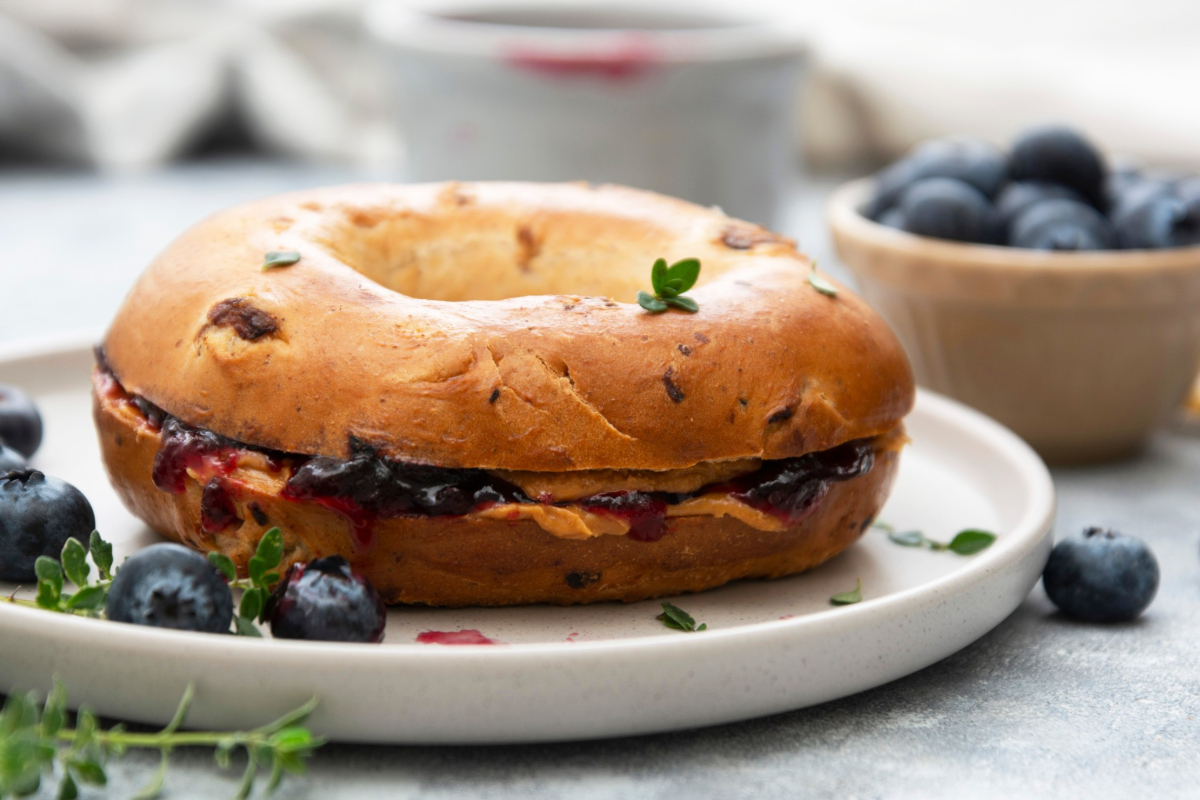 Peanut butter is the world-renowned sandwich spread that goes well with jam, bananas, and even bacon. The rich and creamy spread balances the sweet and salty flavor, but it's mostly sweet. It's been a sandwich staple since childhood, and it continues to be a yummy and nutrient-filled snack for us adults.
Ingredients:
1 Bogels N.Y. Whole Wheat Delight Bagel, toasted
2 tbsp peanut butter
2 tsp all-natural honey
1 tbsp raisins
Additional toppings (if needed)
Directions:
Spread the peanut butter liberally on the bagel.
Drizzle with 1 tbsp of honey evenly.
Top with all the raisins.
Enjoy!
If you'd rather have it sweet, even plainly spreading peanut butter on your bagel is good enough for a tasty snack. No matter which way you have it, peanut butter is a prime choice for a bagel topping.
Adding toppings such as banana slices can also make your bagels the ideal fruity snack at any time of the day! It's both appetizing and easy to make, perfect for people who are constantly on the go.
Cheesy Nutella Delight Bagel
The popular hazelnut spread isn't just for typical sandwiches — it works great with bagels too! Much like peanut butter, Nutella is perfect on almost everything. You'll even catch children eating Nutella straight from the jar. Now, imagine that flavor combined with that tasty bagel goodness in the morning. Sounds picture perfect, doesn't it?
Some people like to mix their Nutella with strawberries, jam, or even nuts, thinking that's the best way to eat bagels. If you're the type who likes their bagels sweet, try spreading some Nutella on your bagel for a more fulfilling morning snack.
Ingredients:
1 Bogels N.Y. Whole Wheat Delight Bagel, toasted
1 tbsp Nutella
1 tbsp softened cream cheese
Sliced strawberries
Directions:
Mix the cream cheese and Nutella.
Spread the mixture evenly over the toasted bagel.
Top with fresh strawberries or serve at the side.
Ultimate Breakfast Bagel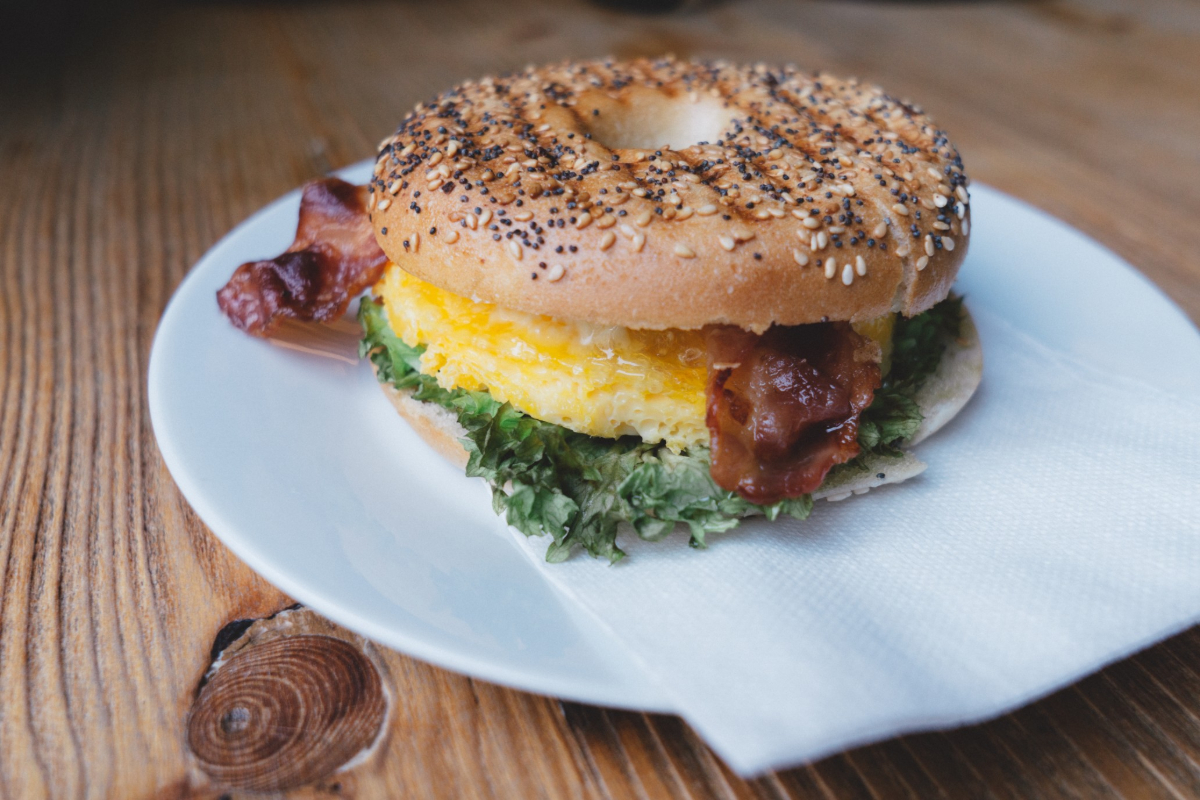 We can't just talk about breakfast options without mentioning the trio of bacon, eggs, and cheese! This mouthwatering combination is already a monumental piece of breakfast goodness. You can enjoy them in sandwiches, with (fried) rice, or by themselves. But one of the best ways to enjoy them is with a delicious bagel!
Chowing down on melted cheese mixed with bacon and eggs in between two bagel halves is the very definition of a satisfying breakfast. For a different experience, try spreading melted cheese and bacon and egg bits on top of the bagel and see how you like it.
Ingredients:
1 Bogels N.Y. Whole Wheat Delight Bagel
4 pcs cooked bacon
2 slices cheddar cheese
Scrambled eggs
Directions:
Put the cheese on top of your bagel before toasting to melt.
Add the cooked bacon and scrambled eggs on top.
If preferred, you can slice the bagel in half to create a BEC bagel sandwich.
Serve and enjoy!
Classic Double-Layer Ham and Cheese Bagel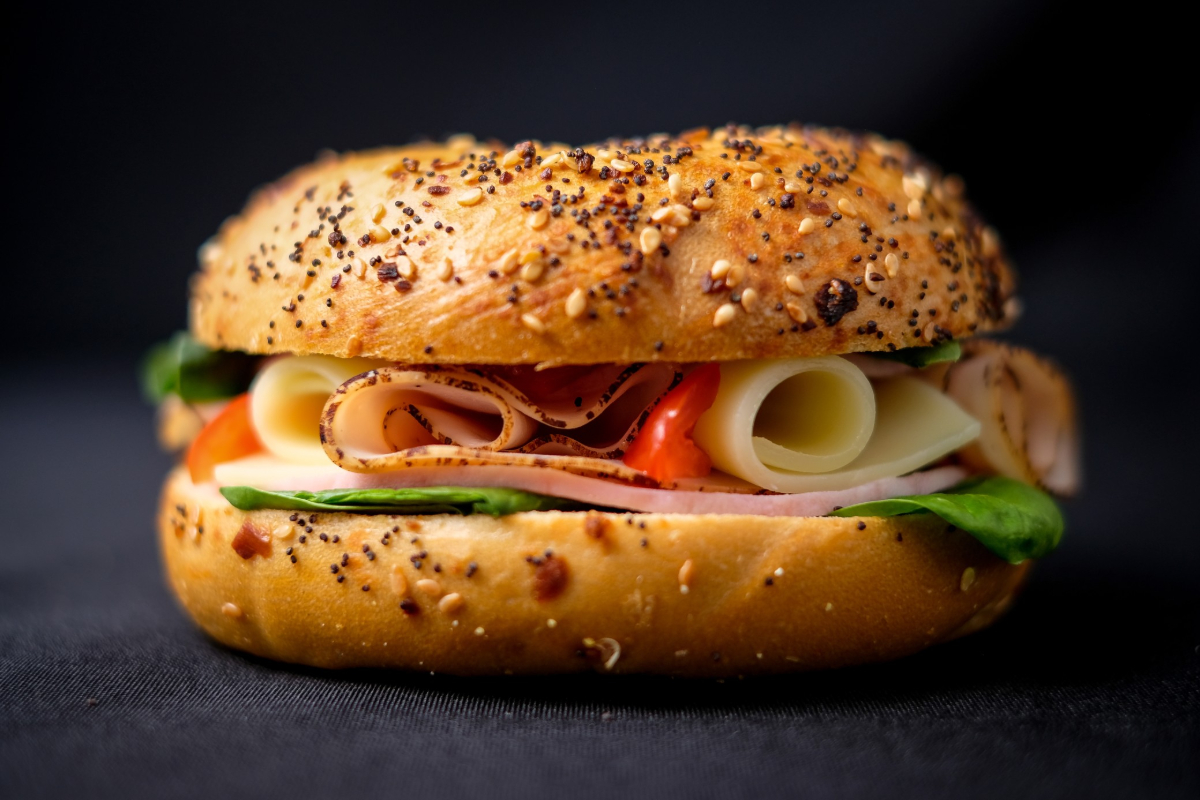 If you want a hearty meal, you can stick with yet another classic duo: ham and cheese! This combo also works great on sandwiches, whether that's with bread or bagels. Other than that, having them as toppings for bagels still makes for a savory breakfast.
Ingredients:
1 Bogels N.Y. Whole Wheat Delight Bagel
2 pcs sliced ham, cooked
2 slices cheddar cheeseScrambled eggs
Directions:
Slice the bagel in two halves and 1 slice of ham and cheese in between.
Put the other slice on top of the bagel.
Place in a toaster oven to melt the cheese and toast the bagel.
Serve and enjoy!
Creamy Salmon Savory Bagel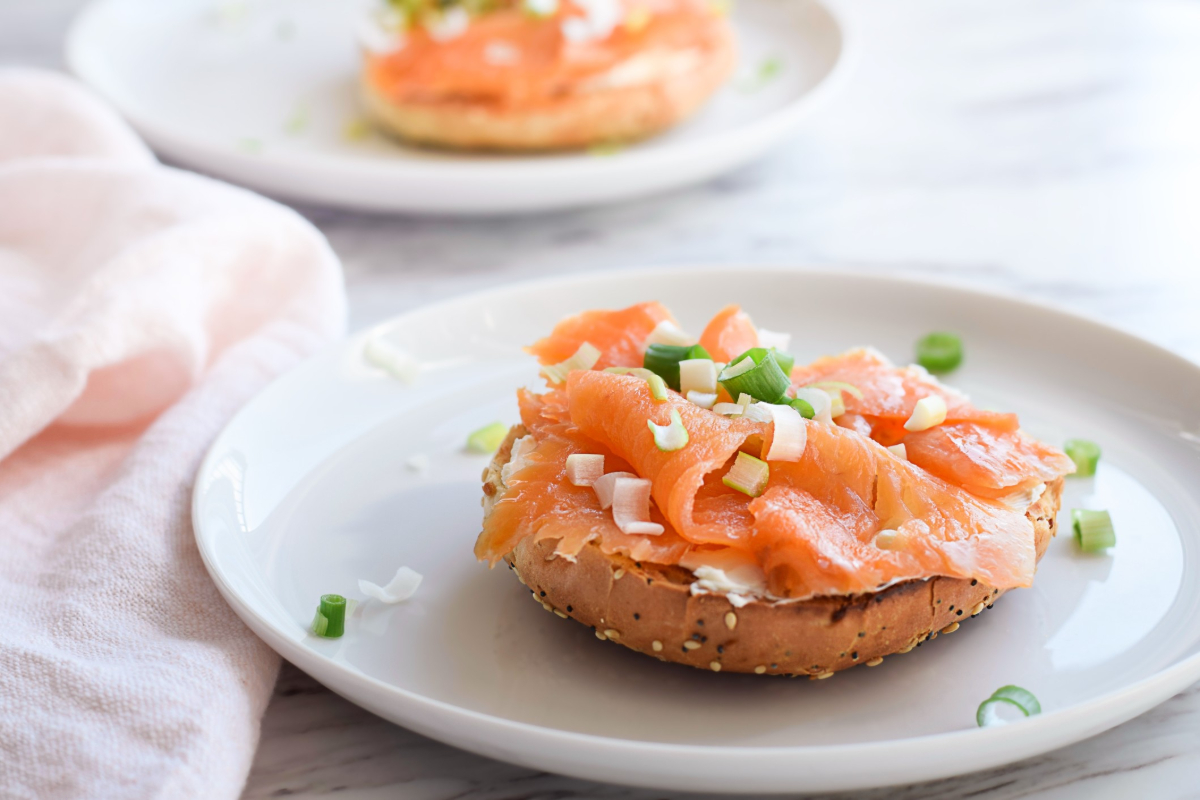 Smoked salmon, also called lox, may not be your first option when making bagels, but it's amazing on top of a bagel. If you like to start your day with a creamy and protein-rich snack, lox on a bagel would be a great combo for you!
To add more flavor, smoked salmon is even more amazing when paired with cream cheese. Top your bagels with cream cheese and smoked salmon and you'll get a rich and savory bagel experience.
Ingredients:
1 Bogels N.Y. Whole Wheat Delight Bagel, toasted
2 ounces cream cheese, softened
1 tbsp capers, drained and divided, optional
1/8 thinly sliced smoked salmon or lox
Freshly ground black pepper, to taste
Sliced onions
Directions:
Spread generous amounts of cream cheese on the bottom halves of your wheat bagels. Add the capers as desired.
Add a layer of smoked salmon on top of the cream cheese.
Place the top half of the bagel and garnish with capers, sliced onion, and black pepper as desired.
Serve and enjoy!
Key Takeaway
These amazing bagels to try are some of the best combinations that you can do whether you're having them for breakfast, lunch, dinner, or even as a midday merienda! But it still shouldn't stop you from exploring other flavors that you might like. Always be open to more creative ways to enjoy your bagels so that you could discover something new!
To enjoy good bagel toppings, you would need good bagels. Bogel's N.Y. makes quality whole wheat bagels that come in packs of 5 and 12, brimming with flavor.
Bogel's is a part of Jimini, one of the most trusted foods groups since 1996! Learn more about us here, and check out the other winning brands that we carry!
Author's Note: This entry was optimized by the best SEO Services Agency in the Philippines – SEO Hacker